In this post, I'm participating in Tempt My Tummy Tuesday, Tuesday Night Supper Club, Hearth 'n Soul, Tuesdays at the Table and Delicious Dishes at It's a Blog Party
We were really feeling the Halloweeny vibe this year, but wee one #2 marches to the beat of her own drummer. So in the midst of the black and orange explosion of last week, she chose to go off the rails and bake something not even remotely seasonal. That's ok, she's 4 – as long as she's actually creating edible food in the kitchen who cares if it's on theme or not right? Right!
The Halloweeny food does not need recipes, as I am sure you make these on your own already and if you don't there are about eleventy billion recipes online. I did my best to make Halloween week as silly and as fun as possible for the kids – of course it got me in the spirit too. Every day, we had at least one themed treat or meal, and towards the end of the week the whole day was themed! Not that I have ever been known to get carried away. Ahem.
The spooky shepherd's pie was just sherpherd's pie with spooky dudes on top. I put the mashed potatoes into cake decorating bags and piped little creatures on top, one for each of us – with little pea eyes of course!

I sprinkled Parmesan cheese on top – liberally – so it'd brown nicely and look less pasty than when it went in!

I think it turned out pretty good and the kids all loved it so that works for me.
The night before Halloween, my husband and I found a recipe for a meat hand! A meat hand!! I didn't want to be a total copy cat, so we made meat fingers and with the cheese on top and the onion fingernail it looked so gross and zombie-like so we called them zombie fingers.

I used the exact recipe for my hamburgers, which is just 2lbs of ground beef, an onion, way too much garlic
(mmmm garlic), oregano, a little thyme and a teeny bit of Miss Diana sauce for chicken. I know that doesn't sound amazing, but trust me, it is.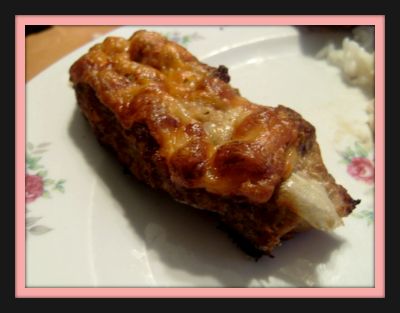 We were having a really laid back day and I asked wee one #2 if she felt like baking something on her own (under supervision, natch) and without even thinking about it she announced she wanted to make granola bars!
They are painfully easy. All I did was turn the oven on, measure the ingredients into bowls, put the dish into the oven and then later take it out. She did the rest.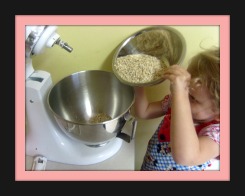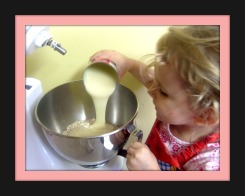 Painfully Easy Granola Bars
3 cups quick cook oats
1 cup chopped peanuts
1 cup mini chocolate chips
1/2 cup mini marshmallows
1 teaspoon vanilla
14 oz condensed milk
1 egg, beaten
2 tablespoons butter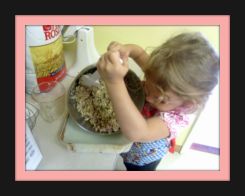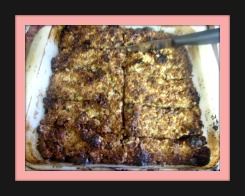 First she piled her dry ingredients into the Kitchen Aid and gave it a whirl. My mother didn't get a Kitchen Aid till I was 14, so it's hilarious to see my not quite 5 year old daughter working the kitchen power tools!
Then she literally dumped all the wet ingredients on top and gave it another whirl. It worked. If I had made them, I likely would have mixed all the wet ingredients together first and then added that to the dry, but what do I know?! 😉
She then greased a brownie pan with Becel and a pastry brush before unhooking the bowl from the stand and dumping the entire contents into the pan. She smoothed it out and instructed me to pop it in the oven. And so I did – then 20 minutes later I took it out again.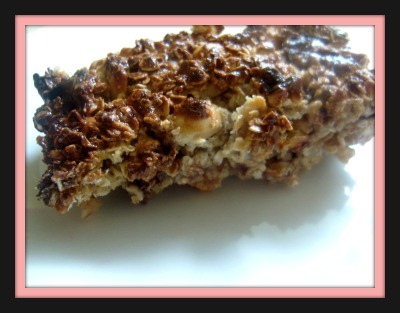 It was hard to hold everyone back while the pan cooled enough for me to cut them into bars. Mmmm. The kids brought them to school the next day! Yes, I know there are peanuts in them and I said they took them to school. Believe it or not, their school only has 41 kids in it and no peanut allergies so they are a peanut friendly school.