Sep 28, 2010
In this post, I'm participating in The Daring Kitchen, Tempt My Tummy Tuesday, and Tuesdays at the Table
The September 2010 Daring Bakers' challenge was hosted by Mandy of "What the Fruitcake?!" Mandy challenged everyone to make Decorated Sugar Cookies based on recipes from Peggy Porschen and The Joy of Baking.
This was my first official Daring Baker challenge and I was so excited to do it, and now I am so excited to show it off!! The theme for this challenge was 'September', it was pretty easy for me to figure out which way to go with that when I am surrounded by these beautiful September colours! The first photo was taken in my backyard (it's part of the view from my kitchen window), the second photo was taken in my front yard. With these colours as daily inspiration, I used brown, green, orange and red on my cookies.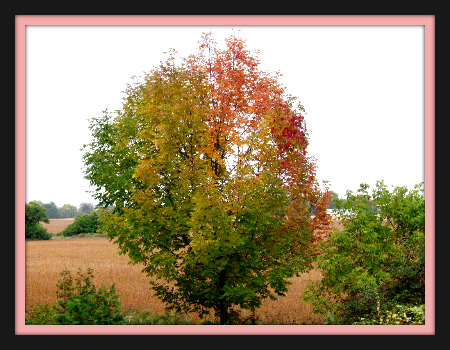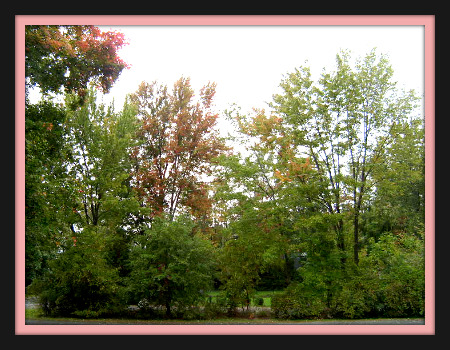 I'm jumping ahead here, I actually baked them on Sunday afternoon and spent wee one #3's nap on Monday decorating them. I prepared them exactly as Mandy instructed. Sugar cookies are pretty basic, but it's the most basic recipes that are the easiest to mess up. In this case, whatever you do, DO NOT overmix! As soon as you're combined, stop.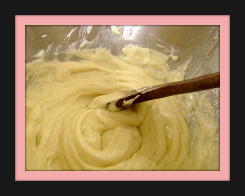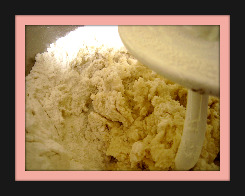 This recipe was a total winner and was explained so well, I can't wait to make more. And more and more and more. Amazing. Kneading the dough into three balls and then rolling between parchment paper to reduce both chilling time, and the necessity to re-roll was genius. I have made a zillion sugar cookies, and these are by far the best.
Also, this is just the second time I've used my Granny's rolling pin. It's so weird and sometimes feels so wrong that I reference her so much more since she's passed than I did when she was alive. It makes me feel both like a terrible granddaughter, and somehow really connected to her. Ever since we traded city for country I've been thinking of her a lot – she was certainty an old fashioned country girl making the city work for her. Anyhoo, her rolling pin is very, very heavy – it's marble with wooden handles and I love, love, love it. In this case specifically, where I'm rolling out soft dough on parchment paper, it makes the job come together in a snap.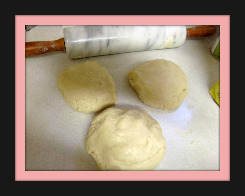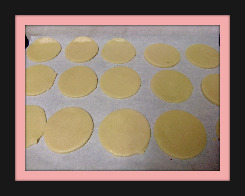 I really think the rolling, chilling, cutting, chilling, baking procedure makes the cookies hold their shape so well and make them so easy to handle. Which doesn't matter much if you're just going to eat them plain. However, if you're, oh I don't know, about to attack them with a kilo of royal icing, it would be so nice if they were sturdy cookies that didn't fall apart when handling!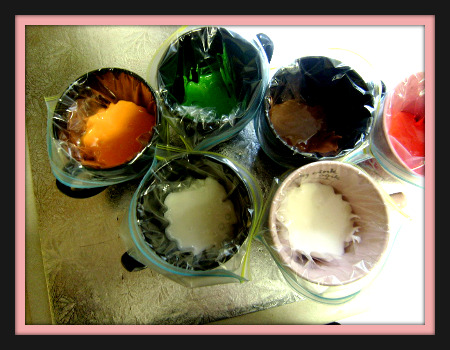 Ahem. Excuse my baggies, I need new piping bags desperately. My birthday is less than a month away and pretty much everyone knows I'd love a refresh of my baking gear. 😉
Decorating these cookies was so much fun! Wee one #1 was at school, wee one #2 was home from school with a cold (as much as she wanted to go the poor thing) so she was in the other room playing Mario Kart and wee one #3 was blissfully napping. A quiet, (mostly) uninterrupted stretch of time?? Really? I took it! LOL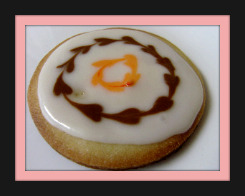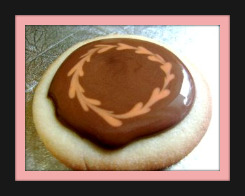 I had intended to also pipe out our initials (we planned when we named everyone to not repeat any initials!) but I got so wrapped up in the magic of dragging a toothpick through the icing, I had attacked all three dozen! Next time I make these, that's the plan, but in brighter colours I think.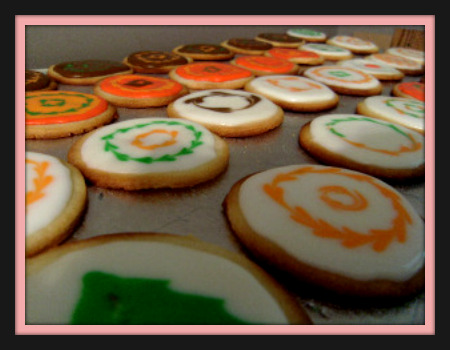 These cookies are destined to be in our neighbour's tummies tomorrow afternoon. As I mentioned earlier, I have been here for 3 weeks and have only met two neighbours, so I will rectify that situation after wee one #1 gets home from school. Hmm. Maybe we should give some to the school bus driver as well!