Jan 1, 2014

California
,
Kids
I hope you all had a wonderful New Years Eve full of whatever makes you happy. Over the years we have always either celebrated with my family, my husband's family or just our little family at home. Since we've been living away from our families, we have been adding to and changing our traditions a little, and this year we added to something new we started last year. Last year we made all the kid's favorite finger foods and got some miniature fancy glasses and had a cute party. The kids counted down to midnight on the East coast and were tucked in bed sleeping long before midnight local time. This year the two littlest wanted to stay up to midnight, so we came up with hourly activities to keep them busy. It was easily the best New Years Eve yet!
We started our countdown activities at 5pm and did something different every hour until midnight!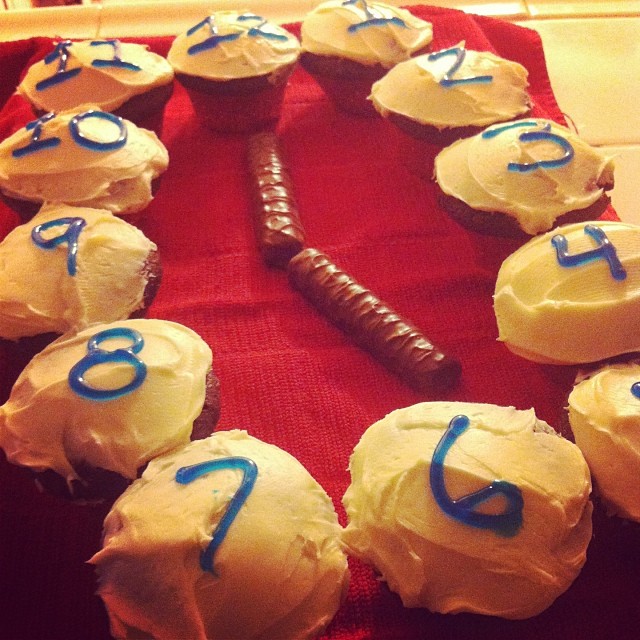 At 5, we made these countdown cupcakes with Twix clock hands. We used the Stir and Bake Chocolate Cake recipe that we all love so much (especially me because it's so easy and always comes out right), and just some plain buttercream frosting.
At 6, we made a glittery photobooth and took about a zillion pictures. Then the girls got their American Girl dolls out and took a zillion more – I think it's fair our son quit with the pictures as soon as the dolls came out!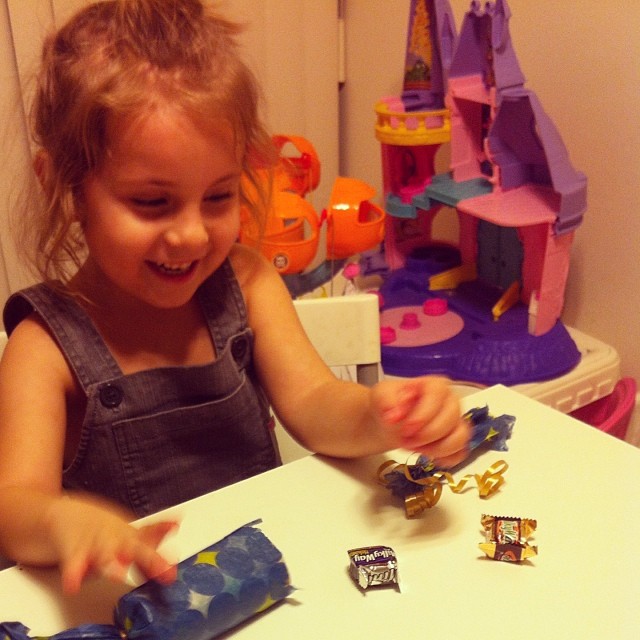 7 was time for making (and breaking) the New Years crackers. All you do is wrap a cardboard tube with tissue paper, toss a few treats inside and tie the ends with curing ribbon. Each cracker maaaaybe takes 2 minutes to make and when you pull on the ends to open them the candy goes flying. They were a serious hit!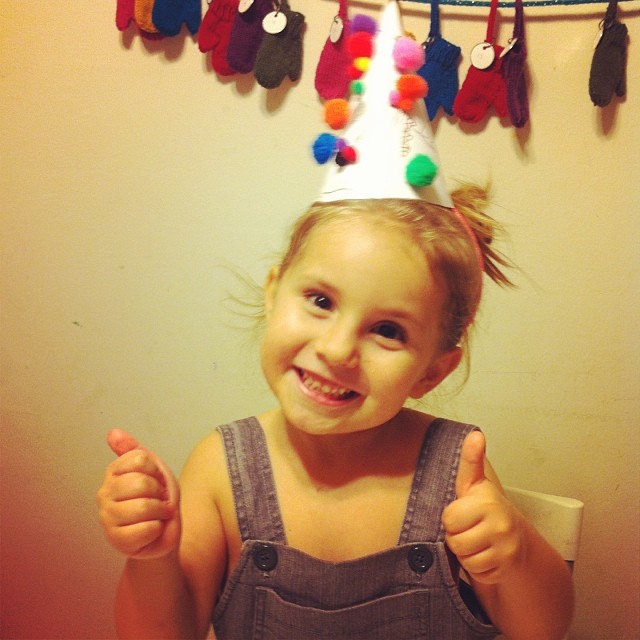 8 was party hat time! To make sure they were sturdier than the construction paper party hats of our past, we taped white paper on top of dollar store birthday party hats! Then the girls attacked them with pom poms and metallic sharpies. We attached them to cute F21 hair bands to keep them in place.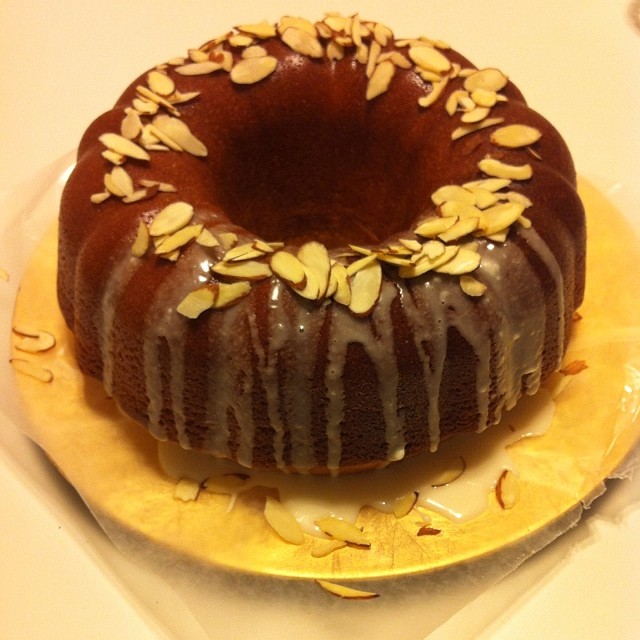 At 9, we made the traditional Greek New Years Eve cake Vasilopita. Growing up, I knew that most Greek families did this tradition because all of our extended Greek family did, but I didn't know that who the pieces were cut for was up to the family matriarch. I cut the cake similarly to the way my mother does it, starting with the Father, the Son and the Holy Spirit. Then it's for all the impoverished, the suffering and then it starts with the oldest in our family (my husband's grandmother) and down to the littlest. Since Chris' family is really big, we cut for the 'houses' so his cousin, her husband and their new baby got a single piece. Once you've cut for all your family you move on to close friends. Last year, the impoverished got the coin in our cake and this year Jesus got it! My husband wants to keep this coin and always use it as the cake coin. Another new tradition!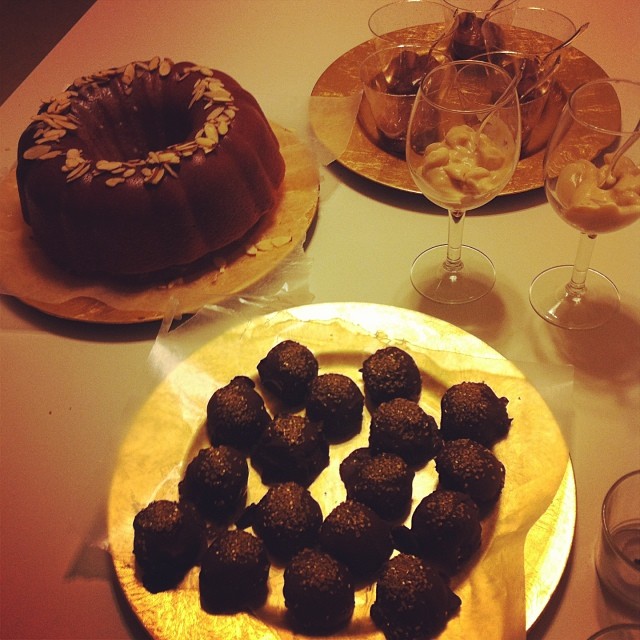 We set out the dessert spread at 10, most of which the girls helped me make. We had the Vasilopita, mint chocolate pudding, vanilla pudding and really serious Oreo truffles. The truffles were big, covered in milk chocolate and sprinkled with edible golden glitter.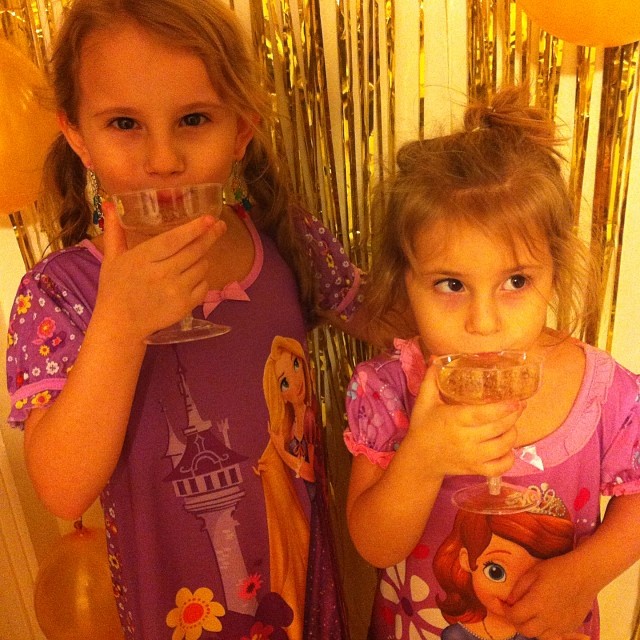 Not pictured was the 11pm picture of the kids tearing open their Christmas presents from their grandparents, delayed over a week by storms on the East coast and customs wanted to have a little look as well, but it worked out nicely for them to have a second little present opening session, these cute nightgowns are from Grandma and Grandpa! Midnight itself was toasted with ginger ale in plastic champagne glasses and honestly? It was perfect. Happy New Year!

Stuff from this post: Gold Curling Ribbon
, 11″ Gold Balloons
, Gold Metallic Fringe Curtain
, Gold Foil Baking Cups
, Tiny Pom Poms
, Metallic Sharpies
aaaaand I read them this book for a week before New Years and they got really into it (The Night Before New Year's
)