Oct 22, 2010

Domestic
Thanksgiving has always equated to pumpkins, which I think is pretty traditional and fair. This is the first year in a very long time that I've been away from my folks for the prep of Thanksgiving. We made the drive down to their place for actual Thanksgiving supper, but this year I wasn't there for baking the desserts. I may have gone overboard with the Thanksgiving baking at my house, but is there really ever such a thing?
First up, I asked Twitter what I should bake and Jen from Hollyhouse Studio suggested I try out the Pumpkin Whoopie Pies with Maple Cream Cheese Frosting from Brown Eyed Baker. Excellent idea. If you're not following them on Twitter yet, get to it. If you are, then take Jen's advice if she gives you any, and bake as much of Michelle's goodies as you can. <3 I didn't have everything I needed for the filling, so I whipped up some classic buttercream frosting to fill them with instead. Whipping cream spiked with cinnamon or nutmeg would have also been pretty amazing. Before this month is over, I will likely have another pumpkin extravaganza and try these with the proper filling. The whoopie pies themselves were wonderful! Not sticky at all, just spongey enough too. When we brought these to Toronto my father inhaled them. 🙂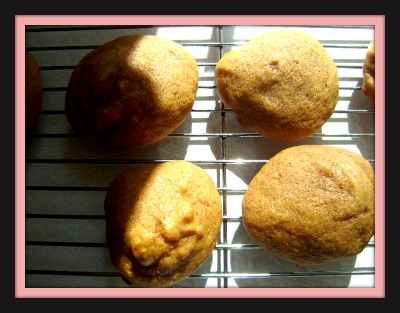 I have no idea where I found this next recipe. It was in a sheet protector in my kitchen recipe binder, which just means I must have really wanted to try it out if it made it's way to the kitchen binder.
Chocolate Chip Pumpkin Mini Loaves
3 cups granulated sugar
15 oz pumpkin puree
1 cup vegetable oil
2/3 cup water
4 eggs

3 1/2 cups flour
1 tablespoon cinnamon
2 teaspoons baking soda
1 1/2 teaspoons salt
1 cup chocolate chips
1. Preheat oven to 350. Use either three loaf pans or a pan and a half like the one I used.
2. Sift together flour, cinnamon, baking soda and salt.
3. Beat sugar, pumpkin puree, oil, water and eggs till smooth. Blend in the flour mixture and fold in chocolate chips
4. Fill each pan 1/2 to 3/4 full.
5. Bake for about 35 minutes if using loaf pans, 20 if using mini pans.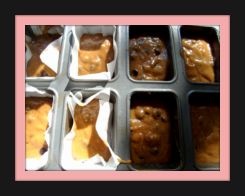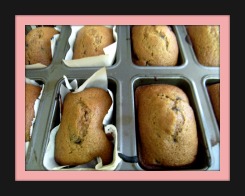 These. Oh these ones. My pride and joy. My mini pumpkin tarts. The idea was shamelessly stolen from inspired by Bakerella's Pumpkin Pie Bites. I love her blog dearly, but I cannot bring myself to use pre-made pie crust. My Granny would be reanimated from the grave and haunt me for the rest of my life. So, I used my 78 year old pie crust recipe. Do you want me to share it with you now? Promise you'll be good to it? Don't roll it out too much and for crying out loud, once it's in the pan leave it be. Okay? Alright then, here you go. It's really as simple as possible – it is from 1932 after all.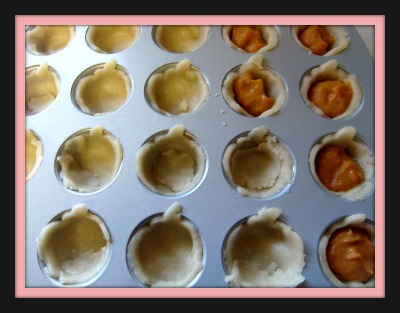 'Plain Pastry' from The Art of Cooking and Serving
2 cups flour
2/3 cup butter
3/4 teaspoon salt
cold water
Mix and sift four and salt. Cut in butter with a knife. Add only water enough to hold the ingredients together. Do not knead. Divide dough in 2 parts and roll out thin on a slightly floured board. Line a pie pan with one half the pastry. Pinch pastry with the fingers to make a fancy edge and prick bottom and sides with a fork. Bake in a very hot oven (460) 10 to 15 minutes. For a 2 crust pie, line pie pan with pastry, put in a filling, cover with top crust and bake as directed for pies. If less rich pastry is desired, use only 1/2 cup butter.
I will bake my way through this cookbook as a challenge to myself in the new year. I still have to finish 'cake year'. 😉
The filling for these little cuties is your standard 'evaporated milk + egg + pumpkin pie filling'.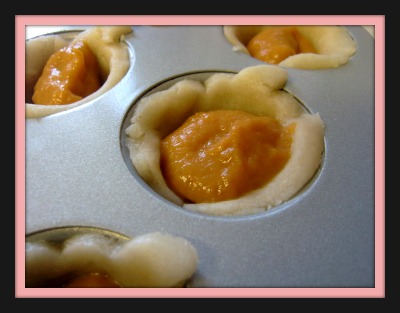 I gave them an egg wash, of course. Pies and tarts must have a glossy crust, right? I made the pumpkin pie the same as the mini tarts, and the crust is the same as well. I swear by this crust. It is prefect every time.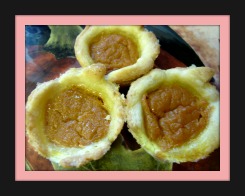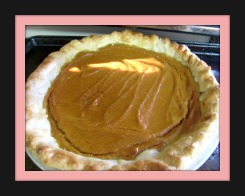 My full Thanksgiving treat spread, on the beautiful fall harvest platter Gilly gave me a few years ago – thanks Gill!!