Aug 14, 2010

Domestic
I know it's been more than a month since Canada Day, but I don't want to ignore the amazing themed food I made for my usual suspects that weekend – prepare to be schooled. I made a dish from each of three provinces that I have a connection to. My father's heritage is what I love to call 'painfully Canadian'. It's true that both his mother and his father's families go back to Scotland and England, respectfully, but the first few generations back are from Saskatchewan and Quebec. My father is one of four siblings, three of them born in Ontario, plus my husband and his family are from Ontario as well. One of my oldest and dearest friends is from Northern Ontario and Miss Talea is from Saskatchewan as well and actually supplied the recipe I used! My grandfather's entire family was from Montreal and the surrounding snobby French towns, so that's my third!
Ontario obviously is at the top of the list, being the only province I've ever called home, and though my husband has lived in two other provinces, he was born in here and has spent the most time here. The farmers association in Ontario is called Foodland, and there is even a chain of grocery stores (only in small towns – mind you they're in every small town) by the same name. There are way too many different fruits and veggies to pick a real 'staple' of Ontario foods, but we have an abundance of apples and cranberries, plus apples and cranberries are probably my favourite locally grown foods, so I went with Ontario Apple Cranberry Crumble Pie.
Ontario Apple Cranberry Crumble – from Foodland Ontario
Streusel Topping:
3/4 cup quick cooking oatmeal (not instant)
1/3 cup all-purpose flour
1/3 cup brown sugar
1/4 cup coarsely chopped hazelnuts (optional)
1/2 tsp cinnamon
1/4 cup cold unsalted butter, cut into cubes
Filling:
1/3 cup granulated sugar
2 tbsp cornstarch
1/2 tsp cinnamon
1/4 tsp nutmeg
6 medium Ontario Apples, peeled, cored and cut into 1/4-inch wedges
1 cup Ontario Cranberries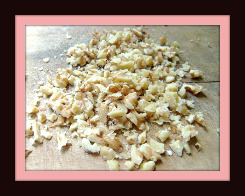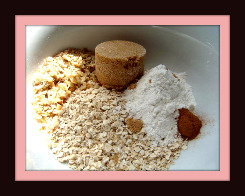 1. Preheat oven to 400° F (200° C). Thaw pie shell for 10 minutes. Set on a baking sheet to catch any drips while pie is baking. To prepare streusel, combine oatmeal, flour, brown sugar, nuts and cinnamon in a medium bowl. Add butter cut into cubes. Using fingers or a pastry cutter, cut butter into oatmeal mixture just until fine crumb consistency. Set aside.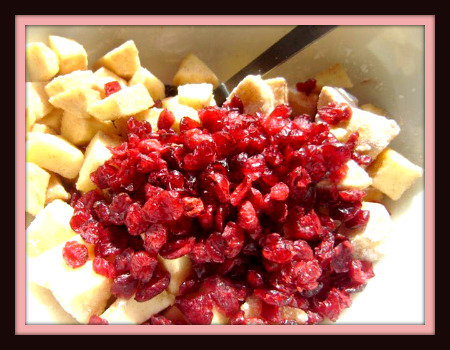 2. In a small bowl, stir together sugar, cornstarch, cinnamon and nutmeg. Set aside. In a large bowl, combine apples and cranberries until mixed. Stir in sugar mixture and coat fruit well. Spoon into pie shell. Sprinkle streusel topping evenly over top. Bake on lower shelf in centre of oven for 10 minutes. If topping begins to brown too quickly, cover loosely with a piece of foil. Reduce oven temperature to 350° F (180° C) and continue to bake until apples are tender, filling is hot and topping is a deep golden brown, about 50 minutes. Remove from oven and let stand at least 10 minutes before cutting into wedges.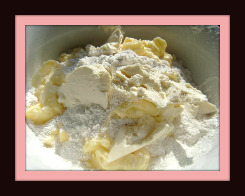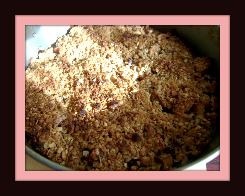 So so so good. Foodland suggests serving it with vanilla ice cream. I served it with this Ice Salad from Saskatchewan.
I can't possibly explain why a general rule of thumb in the prairies is that anything with more than three ingredients served cold is called a salad. It's not a rule I've ever heard from anywhere else and it's certainty met with raised eyebrows, so I have confirmation that it's not just me that thinks this is weird. Also, the prairies have a thing for Jello. They love it in an unnatural, 1950s sort of way. My Saskatchewan dish combines the two in a family recipe from Talea for Ice Salad. The recipe she gave me was for this pineapple-orange version which I loved but not everyone else loves pineapple as much as me.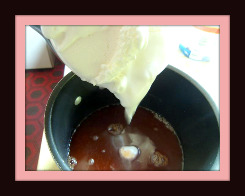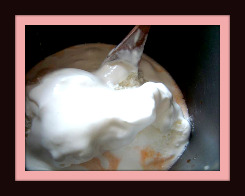 Saskatchewan Ice Salad – from Miss Talea
One 14 oz can of crushed pineapple
One 3 oz package of lemon jello powder
2 Cups of vanilla ice cream
Water
Drain juice from pineapple. Add enough water to juice to make one cup. Heat to boiling and add jello powder. Add ice cream and stir until melted. Add crushed pineapple. Refrigerate.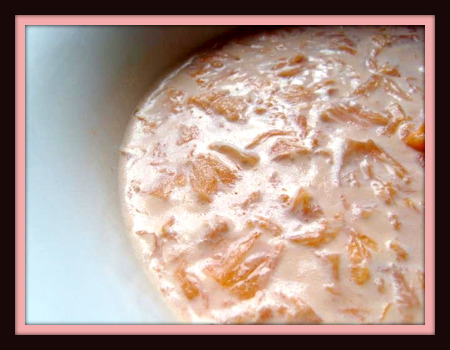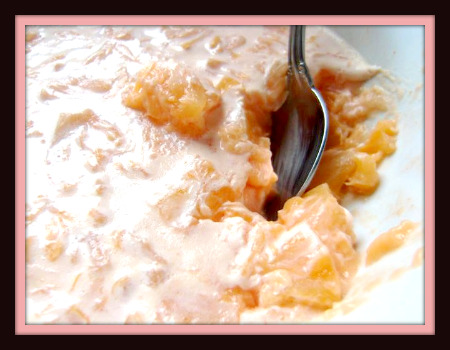 I modified the recipe a little and made these pink ones, a strawberry-raspberry version. I followed the same basic guideline and used vanilla ice cream, but I used raspberry jello instead of lemon and because I ditched the concept of fruit bits, I didn't have the juice, so I used strawberry fruitopia. Yum!!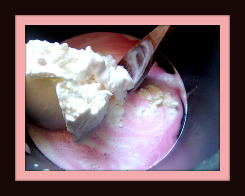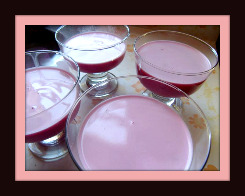 When thinking about food from Quebec, the very first thing most people think of is poutine. I'm just really not big on the whole cheese curds situation. Aside from poutine, the only other thing out of Quebec would be tourtiere. It's a meat pie, traditionally made on Christmas Eve.
Quebec Tourtiere
2lbs lean ground beef
5 cloves garlic
1 onion
1/4 cup parsely
1/2 tsp cinnamon
1/2 tsp savory
beef stock
corn
pepper
1/4 brick of marble cheese
your favourite pie crust
1 egg
Make your crust (mine is 3 cups flour, 3/4 cups butter and 5 tbsp water) and line it with thin slices of marble cheese. But not cheese slices, you dig? Then sauté your onions and garlic in a bit of butter and mix in and cook your ground beef. Mix in the corn and pour into your (cheese-lined, uncooked) pie crust.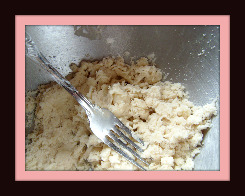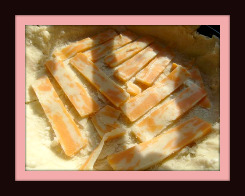 Mix the egg with a bit of water to make an egg wash and brush over the top crust of the pie. Bake it at 350 for about 45 minutes, check on it about halfway and brush with the egg wash again.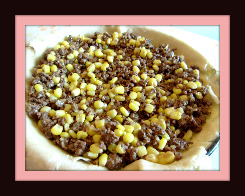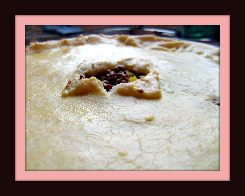 I also served Tim Horton's coffee of course!! Next year I want to make nanaimo bars (for British Columbia), maybe some beef stew (for Alberta) and some kind of seafood (for the Maritimes).