I originally saw these little cuties on Bakerella, of course. I'm a little obsessed, can you tell? Then, just as with everything else that happens on the internet, they started popping up everywhere. I neeeeded to make these. This week has been a blur of black and orange, a frenzy of Halloween activity that I have loved every moment of! I will post some of the Halloween treats I've made this week tomorrow (along with my entry for the Craftster Fall Cooking Challenge). So with all the ghoulish cooking and baking going on around here, cute little brownie burgers were a nice change of pace in the kitchen. I made an extra tray and let the kids have at it with way more buttercream frosting than any three children should have access to. 😉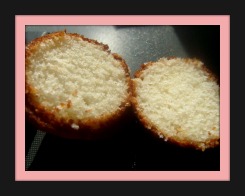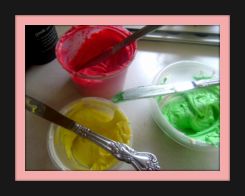 It's pretty straightforward, and I'm including recipes! I made my standard vanilla cake in a mini cupcake pan for the buns, then I cut the tops off! Don't overfill the cups too much because you don't want too much of a muffin top! I then made classic buttercream and tinted it red for ketchup, green for lettuce, yellow for mustard and left some white for onions. Get creative with it! If you typically put hot peppers on your burgers, tint some orange too!
Standard Vanilla Cake – from Elliot Bakes a Cake
2 eggs
3/4 cup butter, softened
1 1/2 cups sugar
1 cup milk
1 teaspoon vanilla
2 1/4 cups flour
3 1/2 teaspoons baking powder (yes 3)
1/2 teaspoon salt
Separate the eggs into two small bowls. Mix the flour, baking powder and salt in a large bowl.
Cream the butter, add the sugar. Stir until smooth. Beat the egg yolks and add them to the butter and sugar. Add the milk and vanilla next and stir.
Then add the flour mix, a little at a time. Mix till smooth. Beat the egg whites till stiff peaks form, then fold into the batter.
If you're using it for these mini cupcakes, assume they'll be fast, like 15 minutes or less. If you're making bigger cupcakes or a cake, add more time.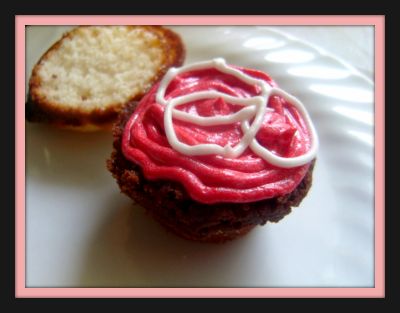 The brownies were my standard cocoa brownies (found here with chocolate chips added to them). I found that since they are so moist, I had to pop them in the freezer for a bit for them to be easier to cut – I still have yet to pick up a small circle cutter so I used a shot glass.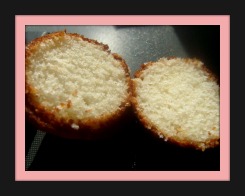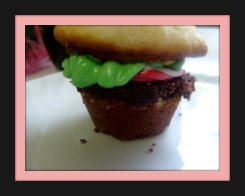 The sugar cookies here are the same I made last month for the Daring Baker challenge. So simple and so fast!!
Basic Sugar Cookies
1/2 cup + 6 tablespoons unsalted butter, at room temperature
3 cups + 3 tablespoons all purpose flour
1 cup caster sugar
1 large egg, lightly beaten
1 tsp vanilla extract
Cream butter, sugar and vanilla. DO NOT OVERMIX. Beat in egg till well combined and not a second longer. 😛
Add flour and mix till a sticky dough forms. Kneed into a ball and divide into 2 or 3 balls. Roll out each ball between two sheets of parchment paper for about half an hour. Preheat to 350, then take it out, peel off the first layer or parchment paper and slice it into strips like french fries!
These babies cook fast, especially if you made thin fries! Check on them after 5 minutes but they may take up to 8 or 10 minutes.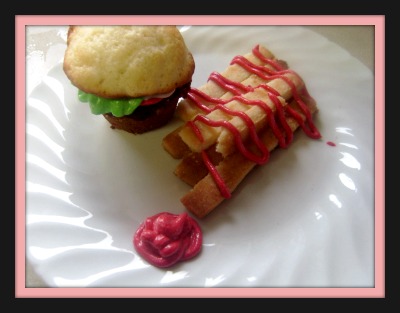 And now, let's sidebar into kiddie art, shall we?
Later that afternoon, wee one #2 wanted to into the new finger paints my husband picked up, and with wee one #3 sleeping, away we went!
This first one was made with blow painting, which is just plopping a bit on watery paint on the paper and blowing it around with a straw to make different shapes. We added eyes because she told me it's a friendly monster.
Then we did some thumbprint snowmen on the left and handprint flowers on the right. The hand prints were the most fun because they were the messiest, of course!!