Lindsay's key lime pie was as bad as I said it was, and to make up for that this week I made three pies, chosen by my ladies.
Emerald was the first to reply, suggesting a Chocolate Cherry Pie. Essentially, the Chocolate Strawberry Pie from last month. This one's crust was made from the Oreo crumbs and Becel like the strawberry pie, and I made the same vanilla custard. I just went with Em's favorite – cherry pie filling on top instead of the sliced strawberries. I really should have left it in the fridge longer to set up more, but I ended up serving it with a spoon. Ha! Gill checked in last, suggesting an Applesauce Custard Pie. I had no idea how it was going to set up, because there was no condensed milk in it, but it worked! I will admit though that I didn't make the crust. Boo! I used frozen Tenderflake, and to be truthful it was sub par crust. I'm just going to stick with making my own, it's better. 😉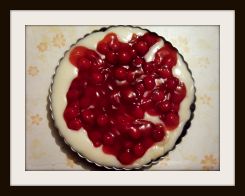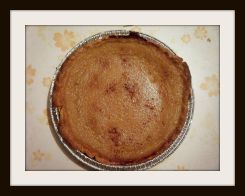 Talea got back to me between the two, offering up the idea of a Frozen Peanut Butter Pie. I used the same chocolate crust as above again instead of a graham crust, and drizzled melted chocolate over the top. I had to freeze it for a few hours of course, but aside from that it came together about as quickly as the first one.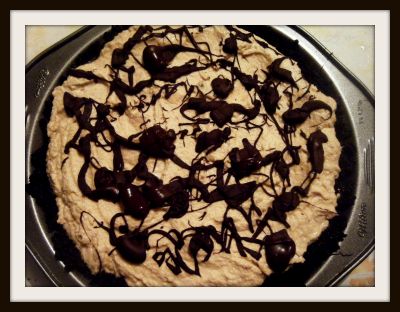 Also last week, my fabric from Tonic Living here in Toronto came in and I couldn't possibly be more excited about sewing up this amazing fabric into cloth diapers. I got 4 yards of cotton fleece (3 with jolly rogers on them, one each in pink, green and blue, and 1 yard of brown with white polka dots) and 4 yards of organic cotton jersey. Wee one #3 is rather wee, so I made this batch of diapers to go from now (newbornish) to 4 or 5 months. I can see now that I really could have made them bigger and just folded them again before putting them on her, but this way they're really comfy for her. 🙂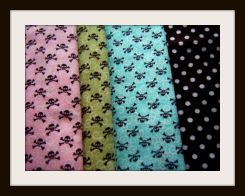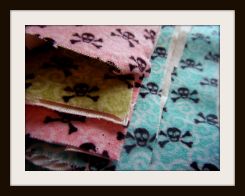 First I cut all of my fabric into 14″ squares, the fleece for the outside and the cotton jersey for the inside. Why you ask? Well, I know that the jersey isn't going to add much absorbency to the mix, however it will make the diapers look a lot nicer, a lot more 'finished', than the inside of the diaper being the back of the prints, and although it's not very absorbent, another layer is another layer. Yes? So I sewed (three of the four) right sides of the fleece and the jersey together, trimmed any excess and then flipped it rightside out.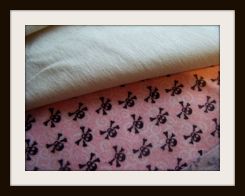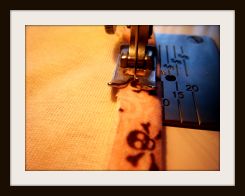 Then I folded over the last open side to avoid an ugly seam and just straight sewed it the first time. Then I trimmed the excess and went back over it again with the zig zag stitch, just to be sure nothing was going to unravel. This is the part I use as the 'back' of the diaper, not that it really matters which is the back.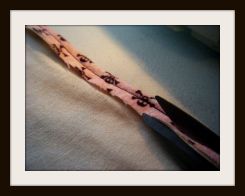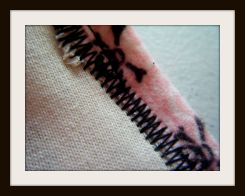 I could not wait to try on the first diaper I made, but wee one #3 happened to be sleeping when I finished. Yup, I have a one month old baby that sleeps through the whirling of the sewing machine just one room away. I know, I know. So anyway, I woke her up for this photo and she was so pleased she wouldn't stop kicking. Ok, she was likely irritated with me for having woken her up for a little photo shoot, but it fit! I got her back to sleep and plunked back down to finish off the rest of them (almost!)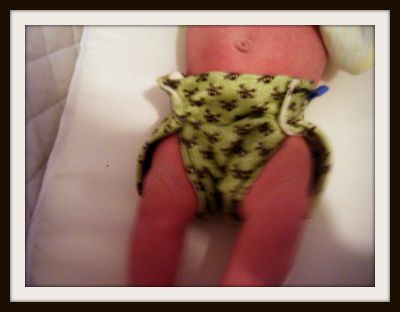 With all the new fabric I got last week it's harder and harder to focus on all the knitting in my cue! I'll get back to knitting this weekend, I'm making a few fun sewn items for my little Easter fete on Saturday night first! If I have time there are some sweet summer dresses I want to put together for the girls for Greek Easter next weekend.
Coming up, an Easter fete and a new pie!