Mar 5, 2013

California
,
Kids
Little Miss Wee One #3 is officially 4, officially not so much a little person anymore. I mean, don't get me wrong, I know that 4 year olds are still tiny and sweet and mispronounce words in the most delicious ways, but 4 is a pretty big deal. We're homeschooling right now, but it's technically 'school age' and she'll be enrolled in the same independent study program as our other two this fall. It's really neat to see the little person she is becoming – so exciting!!
We had a wonderful weekend plan in place for her birthday until a totally unforeseeable kink was thrown in and our plans had to be moved around so much they hardly looked like our plans in the end! Not to be deterred, Mr So Very Domestic and I cooked up a new plan and I think it ended up even better than the original one.
Festivities kicked off on the morning of her actual birthday. Just like with everyone's birthday, my husband and I blew up 20 balloons, tied curling ribbon to them and hung them from the ceiling in the living room. So cute to wake up to! Wee One #3 is our only earlier riser (but not as early as us so by the time she got up, Daddy was already at work) so we had a tiny little early morning celebration just the two of us. I confess this so much it hardly feels like a confession at this point but the only thing I ever miss from before homeschooling is not having the alone time with the littlest that I had with our older two. Stealing all the little pieces we get makes up for it. 😉
I whipped her up some birthday pancakes, which are really just normal pancakes with a hit of cake mix and sprinkles. I have seen this recipe all over the place (and of course by that I mean Pinterest) and it's a thinned out icing that's sprinkled on top. I'm not above sprinkles in pancakes but I draw the line before the thinned out icing sugar, man. I went with pure maple syrup.

Cake Batter Pancakes via Betty Crocker
1 cup Bisquick mix (or any pancake mix)
1 cup yellow cake mix
3 tablespoons candy sprinkles
1 cup milk
1 teaspoon vanilla
2 eggs
The recipe included the thinned out icing sugar recipe I mentioned. I didn't use it, but I'll include it in case you want to!
2 1/2 cup powdered sugar
3 tablespoons plus 2 teaspoons milk
1 teaspoon vanilla
more candy sprinkles <-- I do recommend adding more sprinkles on top though!
I'm not going to tell you how to make pancakes. Even if you just dumped it all in a bowl at once and attacked it with your whisk it would work, so have at it. Just make sure you stick a candle on top of the stack and cut into triangles!
It was a busy day around here aside from it being a birthday! We had JiuJitsu, we had ballet and we hit the library between the two. On our library visit this morning, they were celebrating Dr Seuss' birthday as well! So we hung out for a bit, took out a few Dr Seuss books to add to our bedtime haul for the week and headed back home.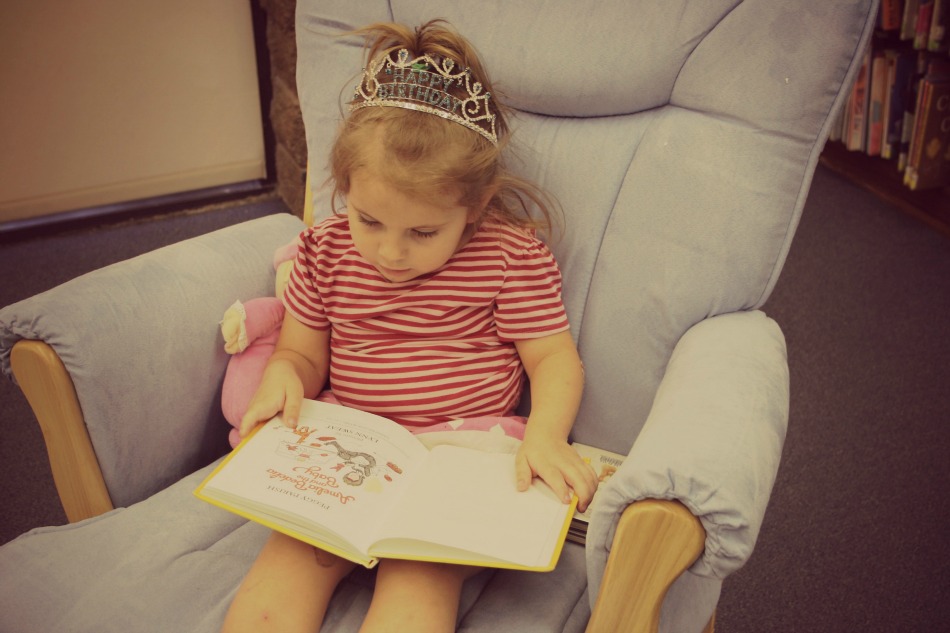 We spent the rest of the afternoon singing songs and playing games and coloring in all her coloring books because coloring is her second favorite thing. Dare I admit publicly what her favorite thing of the moment is? Sigh, my littlest little really, really, really loves to play Minecraft. My husband and our two older littles play together on a private server. They build these epic villages together and laugh and joke and I watch and knit. On her birthday, Wee One #2 had a long dance rehearsal and when I left to drop her off my husband and our oldest started playing Minecraft with Wee One #3. They played all afternoon and long past bedtime. They built a huge mansion, complete with a library and a massive kitchen. Wee One #2 built a barn to house all of Wee One #3's farm animals after she got back from the studio. There was even a pirate ship! We interrupted the festivities to sing happy birthday and blow out some candles and open a few gifts. Then it was back to Minecraft! Hahah one track mind!
| | |
| --- | --- |
| | |
My friend Katie, (or maybe I should say Wee One #3's friend's mother), dropped off a really sweet package filled with so many of her favorite kinds of things. After she opened that gift she played with it's contents for an incredibly long time for a newly 4 year old. Then the following day she wore a hilarious assortment of accessories from it when we ventured out for more celebrating.
The second part of her birthday was spent at the Santa Monica Pier! We divided our time between Pacific Park (always a great time) and the Santa Monica Aquarium!
The Santa Monica Pier has become one of our favorite places because it combines my love of the ocean and palm trees with the kids' love of rides and fast food. It's also a nice drive so my husband likes it, that and all the great photies we get of the kids there! The girls have passes so they were hopping all over kiddie land while I snapped these pics and my husband and our oldest wandered around the pier.
The Santa Monica Aquarium was celebrating it's birthday this weekend too! They had face painting and balloons and cute little candles in the tanks. Adorable! We even managed to stay on time and make it to the shark feeding! Wee One #2 was one of the kids who got to toss a piece of squid to the little sharks and Wee One #3 got splashed by an excited shark and decided she'd rather go to the touch tanks and poke starfish instead (apparently she only wanted to touch the rocks in the tanks hahaha).
*There are so many fun projects to post about and so many fun projects coming up! The kids have been so busy and then by proxy (and shuttling) so have I. All for good causes, of course just extremely time consuming!