Oct 12, 2013

Domestic
With over two weeks to go until Halloween still, the kids are finishing up their costumes with accessories and makeup ideas. I would have loved to sew their costumes, but my sewing machine is in Canada. I know, I probably say 'my (insert precious thing I should have brought with me) is in Canada' at least once a week. That's ok. I'll either get it back soon or I'll get another one. 🙂 So this year they are rocking store bought costumes, but they're jazzing them up so they are not so pedestrian. This weekend is a pretty big deal at our house. First, tomorrow is the season premier of Walking Dead and my husband and I are impossibly hooked on it. I will make something to celebrate it, and since it's pretty Halloweeny on it's own that wont really interfere with the countdown. However, Monday is Canadian Thanksgiving and even though we plan to do up American Thanksgiving in a serious way, we'll be celebrating Canadian Thanksgiving too.
These little treats are so simple, they're just cereal squares, but with a little twist to make them Halloweeny! Just a few extra ingredients and a little extra time and you've got cute little Frankenstein treats! My littles used them as puppets before they devoured them.
Frankenstein Cereal Treats
3 tablespoons butter
1 teaspoon vanilla
4 cups mini marshmallows
6 cups rice cereal
green food coloring
Halloweeny sprinkles
green mini marshmallows
candy sticks
1/4 cup chocolate chips
Make the cereal treats as you normally would. If you don't normally, I swear it's super simple. Just melt the butter in a big pot and add the marshmallows, stir over low heat until the marshmallows are melted. Add the vanilla and the green food coloring. Once the melted marshmallows are completely green, go ahead and add the cereal. Make sure you mix it until it's all green with no extra goopy marshmallow hiding anywhere. Then flatten it into a 9″ x 13″ pan, it works best if you either wet your hands and use them or spay the back of a wooden spoon with cooking spray and use that to flatten.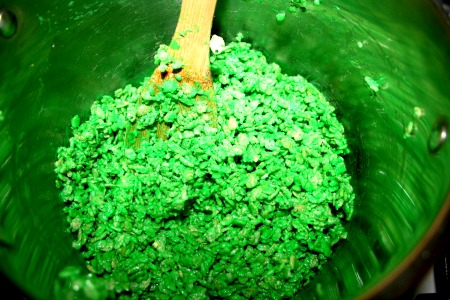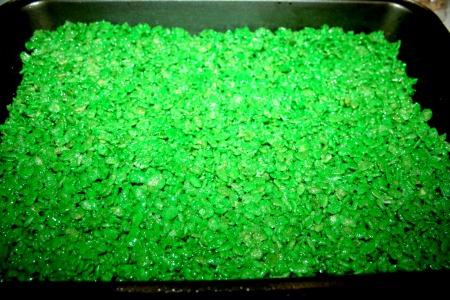 Now you've just made green cereal squares. Make them Frankenstein by cutting out rectangles, poking a stick in the bottom and dipping the top of melted chocolate chips and then sprinkling Halloweeny sprinkles on for hair! Put the rest of the melted chocolate into a small pastry bag (or a small zipbag with a tiny hole snipped in the corner), and pipe on eyes and a mouth. Don't forget the little knobby things! Put a small drop of melted chocolate on two green mini marshmallows and stick them on the sides of his head.