Jul 3, 2013
Yup, that's right. Patriotic jello. Anyone who knows me at all, knows that I do whatever I do with both feet. I'm either out or I'm all in. Sometimes this is not such a great trait to have, but in terms of moving stateside, I think it's hilarious and super fun. This year for the 4th, I will wear my ridic American flag Abby Dawn heels (in red, duh), I will barbecue epic burgers, I will bake an apple pie and I will make this jello flag dessert. That's what happened last year (aside from the shoes, those were bought for Memorial Day this year), and it's what I intend to do every year that we are here. Thanks for having us, America. 😉
I'm sure a lot of my American friends grew up with a red, white and blue loving mother or grandmother that used to make this every year. I totally love it, it's so so silly but not like when you make something silly that is borderline wasteful because it's mostly decorative. It's jello! And whipped cream! And blueberries! What's not to like?!
It is a little labor intensive and it does require a special mold
, but look at this thing, epic and totally appropriate for the 4th.

4 1/2 cups boiling water (total, not all at once)
2 packages berry blue jello (3 oz boxes)
2 packages any red jello (3 oz boxes) I used strawberry
3 1/2 cups cold water (total, not all at once)
2 packages plain gelatin
1/2 cup cool whip
1 can sweetened condensed milk
homemade whipped cream (a carton of heavy cream, sugar and a mixer)
blueberries
You have to make this upside down, so even if your first inclination is to make the blue first, don't! Prep the red jello first, I think it's safe to assume you can handle that, but just in case you need a reminder it's 1 1/2 cups of boiling water poured over the jello powder, then 1 1/2 cups cold water and mix till all the powder is dissolved. Pour this in the mold first and chill for about an hour.
Then make the white jello by mixing 1/2 cup of cool water and two packets of plain gelatin, let sit for about 5 minutes before adding 1/2 cup hot water and stir until the gelatin has dissolved. Then add the sweetened condensed milk and stir, pour this over the red jello layer. Chill this another hour or so.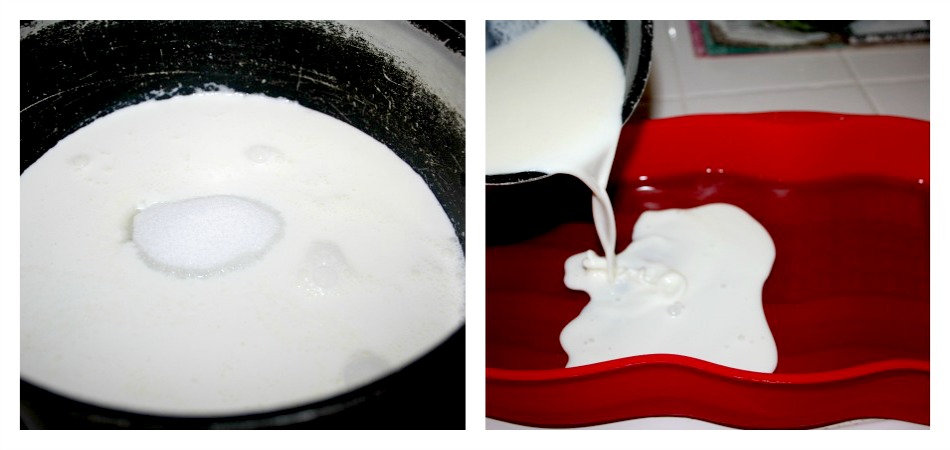 Now make the blue jello (1 1/2 cups hot water plus the powder, plus 1 1/2 cups cold water, duh) and pour that over the red layer. Chill this another hour.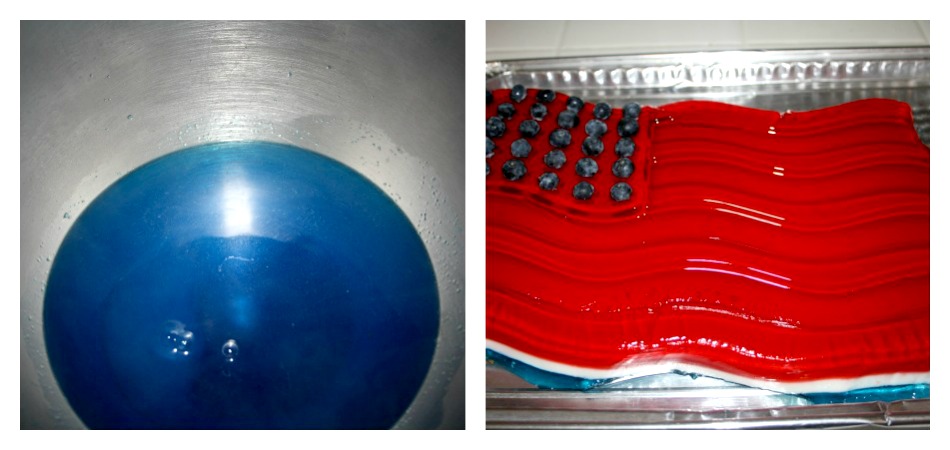 Fill a larger pan with hot water and set the mold in it to loosen it up, then say a little prayer and flip it over onto a flat board or cookie sheet or whatever.
Now, make some whipped cream (or use the rest of the cool whip), and wash some blueberries. Plunk the blueberries in place of stars and pipe the whipped cream for the stripes! Voila!!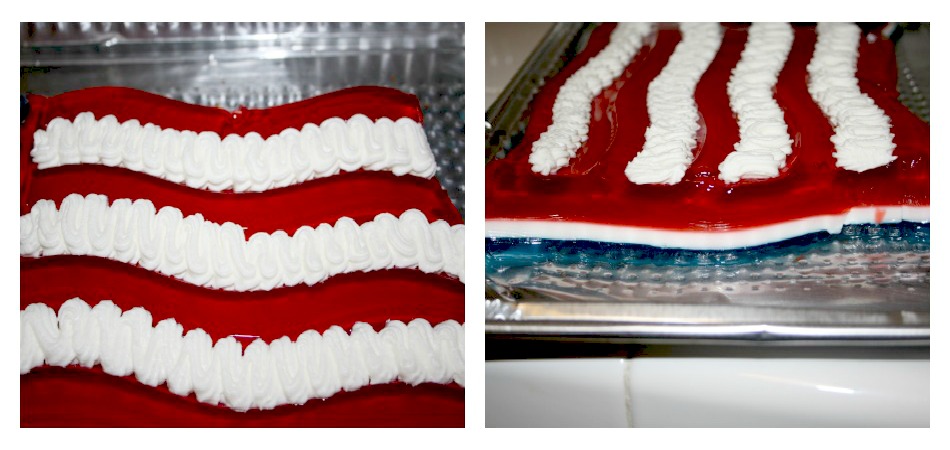 Isn't she beautiful?