Sep 1, 2009

Domestic
When I decided to make a different pie every week, I knew I wanted to make supper pies as well as desert pies and of course, I wanted to make some really weird ones. Weird pies, like Spaghetti Pie. Really. This was take one, and there will for sure be a take two now that I've tried it out and sort of know what I'm going for. I had bumped into a few recipes for it, like this one from Kats Kitchen, and this one from Dinner With Julie, which are both essentially spaghetti mixed with eggs, cheese, sauce and veggies, poured into a pie pan. Then there are recipes for it like this, from Big Red Kitchen, where the spaghetti is used as a crust and the sauce, meat and cheese is on top. I went with the base of the first two and used what I had. While the spaghetti was cooking I chopped the veggies, I used carrots, a tomato, oregano, zucchini, and of course onions and garlic. I also cubed some cheddar cheese and poured 3 whisked eggs around it. I recommend mixing it all in a bowl first and then putting it in your pan because the cheese mostly melted on top. It wasn't bad, but it could have been much better.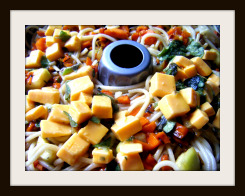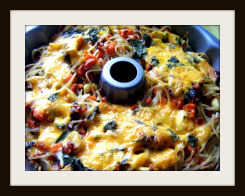 Next time, I will use more like 5 eggs for this pan, I'll add some peppers and spinach and I think I'll use mozzarella and parmesan instead of cheddar.
These cupcakes, along with the Spaghetti Pie, were made to say smell you later to a friend who was going away for a couple of weeks – whose favorite color is green. I didn't want to make green frosting for a plain chocolate cupcake, it's a little misleading, so I made mint chocolate cupcakes.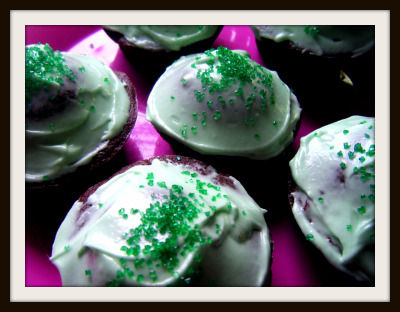 2009 has been the year of the pie, and I'll keep going with the pies and tarts till the end of the year, but 2010 is going to be the year of cakes and cupcakes! I was getting into it early with the cupcakes and then a few days later with this marble cake, and then again with more cupcakes. I don't know why I love it so much more than either vanilla or chocolate cake. Presentation, maybe? It's much prettier than a plain cake. I didn't even frost it, we just ate squares of it with coffee.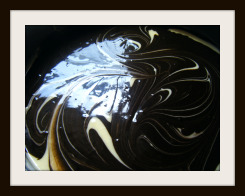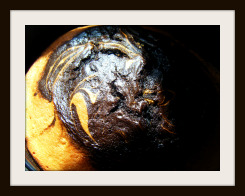 I had to make something special for wee one #1's last day of school party, he wanted cupcakes, but he wanted them to be different. I saw some rainbow cupcakes on Craftster a while ago but had no reason for them at the time. They look far more impossible than they really are and I so wish I had taken photos of the process. I will do them up again for the year of the cake and cupcake and take better pics then. Essentially, you just make a vanilla cake, separate it into how over many smaller batches as you like and tint them all different colors with food coloring. Then we you fill the cupcake liners, you just use about a tablespoon or so of each color (depending, of course, on how many colors you use).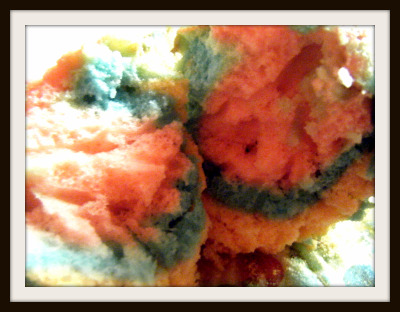 When they bake up, you can see the layers of colors in the crust on top, but they are downright impressive when you break one open!