Aug 22, 2009

Domestic
So much has happened this summer, I can't post about it all at once, so I'll break it into multiple posts.
We'll start with this incredible Coconut Cream Pie I put together. The inspiration came from this Martha Stewart version, but I didn't want to use meringue on top, and the cream of coconut (while delish) is way too fattening for me to serve it to my friends with a clear conscious! So instead I put together something still fairly fattening, but not over the top – what was over the top was the taste! Amazing. This is pie number 21 in my self-inflicted Pie a Week Challenge!
#21 – Coconut Cream Pie
3 cups of half and half (yeah, I know)
2 eggs
3/4 cup sugar
1/2 cup flour
1/4 tsp salt
1 cup flaked coconut
1 tsp vanilla extract
1 9″ pie shell (baked)
1 cup whipped cream
Before you start, make your pie crust and toast your coconut. I used my standard pie crust and I just toasted the coconut in a frying pan for about 10 minutes on med-high.
In your favorite saucepan, mix half and half, eggs, sugar, flour and salt. Bring this to a boil on low heat and don't walk away from it! Keep stirring or it will start to scorch. Once it thickens up a little, take it off the stove, and stir in 3/4 of your coconut flakes and the vanilla. Pour the mix into your pie shell, spread the whipped cream on top and sprinkle with the rest of your toasted coconut, then freeze for at least 3 hours.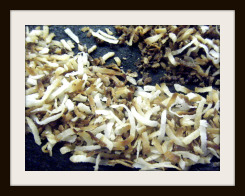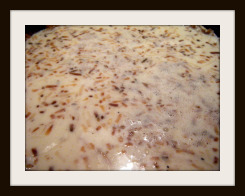 Voila! Refreshing and creamy Coconut Cream Pie! I served this on a day when my girlfriends and I were planting a vegetable garden in my backyard.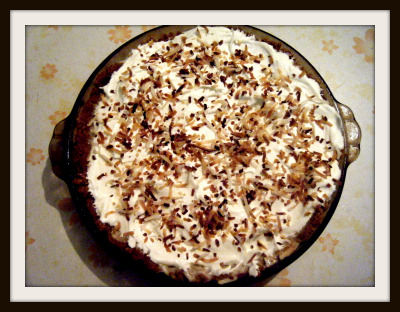 The following week, I made two pies. I had planned to bake a Strawberry Rhubarb Pie for a dear friend who visits every weekend and has a serious soft spot for rhubarb, so that came first. Getting my hands on fresh rhubarb was proving to be harder than I had thought so when I finally had some, there was no question what this week's pie would be! Presenting pie number 22 of 2009!
#22 – Strawberry Rhubarb Pie:
1 cup + 2 tbsp sugar
1/2 cup flour
1 lb fresh rhubarb
2 pints fresh strawberries
9″ pie crust
2 tbsp butter
1 egg yolk
Preheat your oven to 400 and wash and chop your strawberries and rhubarb. Mix flour and sugar, add strawberries and rhubarb and toss it all around until the fruit is nicely coated. Set this aside for about 20 minutes to set.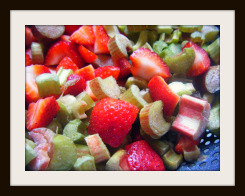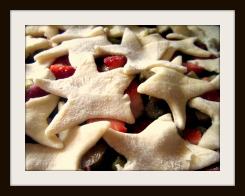 Pour the filling into the pie crust, top with a dollop of butter and cover with the top crust. I got a little silly and cut out about 20 stars from the crust and arranged them instead of making a flat top with one star cut out of it as I usually do.
Mix up the yolk and brush it over the pastry, then sprinkle with sugar and pop in the oven for about 30 minutes.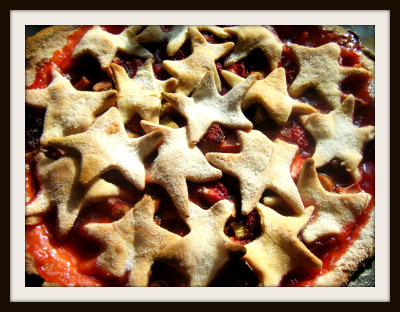 Like a lot of the weirder creations that come out of my kitchen, this started with a proper recipe from a really fun foodie site, Dutch Girl Cooking, emailed to me by a sweet friend who knew I'd love this. I read over the recipe and got so excited! She has made a wonderful step by step on her blog to follow along with. I made the recipe as she posted, but just before I popped it in the oven, one of my Stitch n Bitch ladies came over and suggested I put my cocoa brownies on top – instantly I knew this was a great idea! In the end, I inverted it so the brownie is actually under the pie. So delish, I can't even explain.
#23 – Brownie Bottomed Chocolate Apple Pie:
Dough
1 1/2 cups flour
3 tbsp cocoa powder
2/3 cup butter
5 tbsp sugar
1/2 tsp vanilla extract
1 tbsp cold water
Filling
7 apples (mix them up!)
2 tbsp butter
1 tsp cinnamon
2 oz (1/4 cup) dark chocolate
sugar
Brownie
1/2 cup flour
1/2 cup cocoa powder
1/4 tsp salt
1/2 cup butter
1 cup sugar
2 large eggs
1 tsp vanilla extract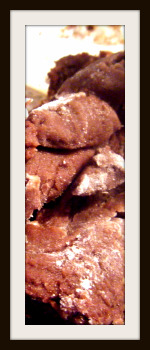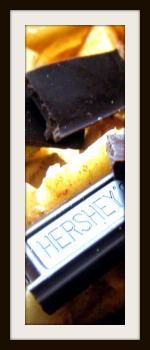 Instructions for the dough and filling are outlined on Dutch Girl Cooking, but essentially I mixed all the dough ingredients in the Kitchen Aid with the hook attachment and rolled it out. I totally agree that there is no other pan to make this in than a spring-form. I popped the dough in, and smoothed it out and left the edges of the dough hanging off the side of the pan.
I did the apples almost the same as Dutch Girl, except I didn't cook it as long because I don't like it as mushy. 🙂 After I poured in the chocolate-apple mix, and folded over the edge of the crust and added the top, we decided to whip up some brownies and put them on top because I had a bigger pan than I thought and had almost 3″ to the top!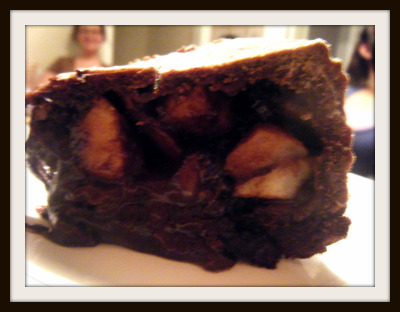 For the brownies, melt the butter in a saucepan, then take it off the stove to add the sugar and eggs (one at a time). In a separate bowl, whisk the flour, cocoa, baking powder and salt before slowly adding that mix to the warm sugar mix. Pour that out on top of the pie and pop the whole thing in the (preheated to 350) oven for about 35 minutes. Once it cooled off, I opened the spring-form and flipped it upside down to put the brownies on the bottom. Next time I make this (and there will certainly be a next time) I'll put wee cutouts on the bottom of the pan so they're on top when I turn it out!
Years ago, my husband machine had an office job outside of the house (the horror!), and he went to a little Portuguese place for lunch all the time. He raved about this not-too-hot sauce that came with a chicken/rice/mini potato lunch. He's been working at home for two years now and hasn't had this sauce at all, until wee one #3's baptism in May. The place we got our chicken from this time around included this sauce and I set out to recreate it! He said I came pretty close!
Maytina's Piri Piri Sauce – Take One
1-1/4 cups olive oil
4 jalapeno peppers
2 sprigs fresh oregano
1 tbsp paprika
3 cloves garlic
2 green onions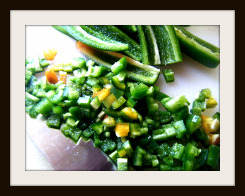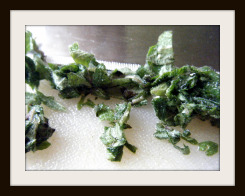 Chop the peppers, if you like it really hot include the seeds. If you like it 'pinchy' but not too hot, leave them out. I left them out. Chop your oregano, green onions and garlic as well, and add all but the garlic to a saucepan with the olive oil.
Stir till the peppers get mushy, then add the paprika and chopped garlic. Cook for a few more minutes, until garlic is soft. Then pour the entire mixture through a sieve over your jar and let the liquid sit, sealed, at the back of the fridge for a week before you use it. Goes great over lemon chicken, potatoes or rice.