Jan 14, 2009

Domestic
Try not to be too jealous, but I got a long-coveted Kitchen Aid stand up mixer for Christmas this year. 😉 I've wanted one since I was a teenager and my mother got one for her birthday, I made my very first torte in it and most of my first attempts at baking were done with her mixer. This is a new style, where the head tilts back instead of going up and down on a slider, and the bowl screws into the base instead of hanging from arms. This one came with the bread kneader, the whisk and the paddle mixer.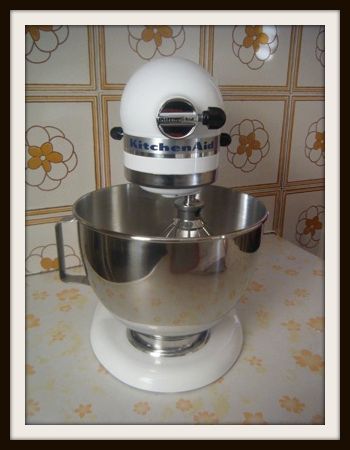 I've mostly just been looking at it, with all the leftover baking from Christmas it really hasn't made much sense to actually take her for a test drive just yet. Until yesterday when the husband machine ran out of sugar cookies and nothing else would satisfy his snacky craving. Here she is in all her shiny glory whipping up a new batch.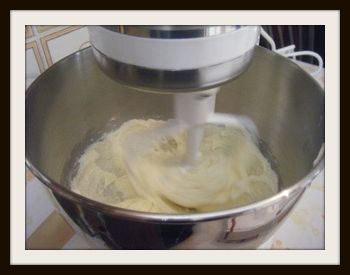 My old mixer was a Sunbeam, and it wasn't really a bad mixer at all, it's just that for the amount of baking that happens around here the issue of the bowl not being that big and the way the beaters snapped into the mixer part was almost too much bother and I ended up mixing most goodies by hand with my giant mixing bowl and wooden spoon. Naturally, this gave all the treats coming out of my kitchen a very 'homemade' look, which is fine but it's so nice to churn out some snazzy looking cookies in less time than my old ones!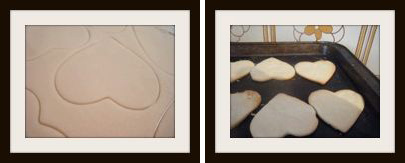 (l-r): rolled out and ready to go, fresh from the oven
So far these cookies are all she's made, these sugar cookies I've been making for over a decade from my Good Housekeeping Cook Book. The biggest difference between the cookies made with this mixer and the same cookie made by hand is how smooth and easy to handle the dough is. I'd much rather roll out doll that doesn't want to fight with me and actually get an even thickness to the batch.

Despite what my Grandmother says about making everything by hand, I think my food processor pie crust comes out better than the old fashioned way, I know all of my breads and rolls are much better made in the bread machine (except gluten free flatbread and crackers), and I wouldn't even try to get domestic without my Magic Bullet and blender. When I made my melomakaronia this year, I tried a recipe I've been told isn't 'authentic', the butter, sugar and wet ingredients are whipped in the blender before being added to the dry ingredients. They turned out really well (though as I mentioned next time I'm using brown sugar and molasses), and I'll likely make them this way again next year.
Most of what I learned of cooking before I moved out came from my father, and as my mother puts it he likes to 'bastardize' traditional recipes. Last weekend for my Stitch n Bitch, he came over to make what is essentially perogy filling wrapped in philo pastry instead of the traditional dough. Just like with perogies, you can make the filling out of whatever you feel like, we used potatoes, onion and cheese so we'd have a veggie version of another weird idea he whipped up that night – a ground turkey pilaf with stuffing and cheese rolled in philo pastry.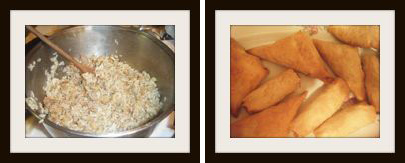 (l-r): turkey pilaf with stuffing, the logs are the finished product and the triangles are the perogie-style treats.
Divine – and odd, but if we stuck to tradition we wouldn't have these odd little snacks to try out. This year in my kitchen I am going to try to merge the traditional recipes and ideas I've always loved or wanted to try with all the new ideas floating around in my head, using all the kitchen gear I can get my hands on!