Aug 24, 2009

Domestic
I have never really been a big fan of pecans, but when I read about this recipe via a Tweet from Jen Yu, I had to try it. It's a pecan pie, sure, but it's a chocolate espresso pecan pie. I love chocolate and I adore espresso, so its a win! The recipe is posted here at Use Real Butter, modified from Fine Cooking, and I modified it just a little as well. I made my usual crust and I didn't have any corn syrup so I used maple syrup (ha!). I'm going to repost it here anyway, in the interest of organization! Use the crust suggested, or your own standard crust.
#25 – Chocolate Espresso Pecan Pie
3oz unsweetened chocolate
2 oz butter
4 large eggs
1 cup maple syrup
1 cup sugar
1/4 tsp salt
2 tbsp instant espresso powder
1 tbsp hot water
2 tbsp Bailey's (or something like it)
2 cups pecans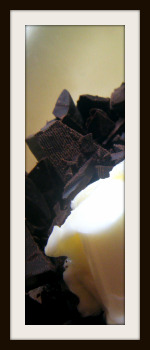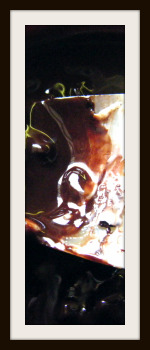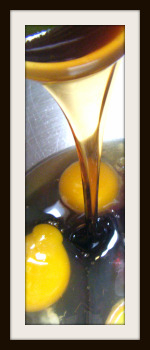 This pie comes together just as you'd imagine it would, chop and melt the chocolate and butter together. Let it cool off and mix the eggs, maple syrup, sugar and salt. Whip up the espresso and hot water before adding it to the egg mix, then add the chocolate mix and the Bailey's.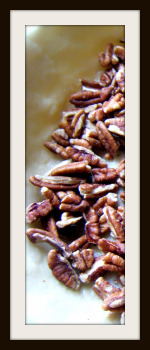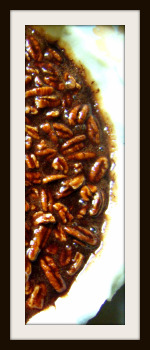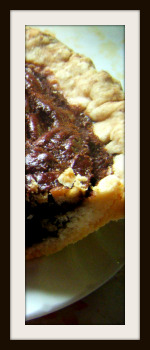 Spread the pecans on the bottom of your crust and the pour the mix on top (pecans float, who knew?). The recipe says to arrange some half pecans along the edge of the pie before you pour in the filling. Your call, I didn't. Bake it at 350 'till the filling puffs' and man does it ever, about 45 for me (be warned, my oven runs HOT).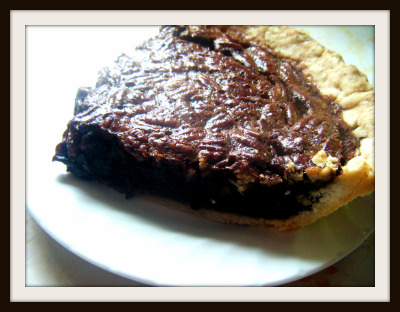 I don't think I can possibly describe this pie, it has to be tasted. It's not too chocolaty, and though you can taste the coffee flavor, it's not overpowering. This is a pie I will make again and again. I loved it.
Sidenote, I've taken to making little potato crisps in the afternoon for the kids when they ask me for a snack. I just scrub down a potato, leave the skin on and slice it really thin. I just sprinkle with a little Becel oil and black pepper. Sometimes I also use a little romano or parm cheese. I pop them in the oven at about 400 for 15 minutes or so (depending on how thin they are).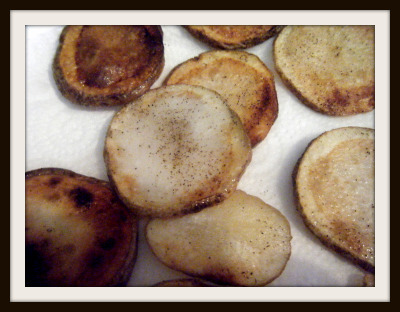 Wee one #1 eats them plain, wee one #2 dips them in ketchup and wee one #3 doesn't have any teeth yet so she doesn't have a preference yet. 😛 I'm going to try this will various root veggies and different toppings. Like can you imagine how garlic and green onions could transform a potato? Or what cheese and chives would do for a yam?! I am getting excited about the possibilities!